Welcome To Our Academy
---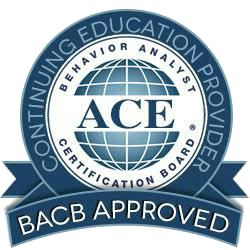 We are a BACB Approved Continuing Education Provider.

---
---
The Problem.
You're busy. We get it.
Teaching. Supervising. Reports. Observations. Assessments. Life.
You need convenient quality CEUs, but at a price you can afford.
You want to help all of your clients, give your supervisees quality feedback, attend conferences, gain experience, and stay up to date, but without breaking the bank.
That's where we come in.
---

---
The Solution.
Our Online Academy has been established to help BCBAs earn CEUs entirely online, in their own home, and at their own pace.

All of our courses are meant to keep you up to date with the latest research, methods, and legislation.
Course subjects include a wide range of topics, to suit your needs and interests.

You can earn all of your required CEUs in one convenient place, and at your own pace.
Best of all?
Join us today and get access to our UNLIMITED membership and low pricing.

We are the only site you'll need for ALL of your CEU needs.

Ever.
It's that easy.
---
---
Why We're Here.
We were founded by a new mom, teacher, and BCBA who was looking for an affordable and convenient way to earn CEUs, but she found that her options were:
• Live lectures, which didn't always fit into a busy schedule.
• Expensive offerings, which stretched an already tight budget.
• Disorganization. There was no single place that housed all the CEUs she needed.
Sound familiar?
Luckily, she did something about it and created Autism Ed Support.
Convenient. Affordable. Quality.
---
Welcome To Your Solution.
---
We offer three convenient options to help you reach your professional goals.
1. Ala Carte.
Buy by the course, and receive the CEUs you need to help you reach your requirement.

This is a great option for those who just need a couple of units, and want an affordable and convenient approach.
2. BCBA Yearly Membership.
Sign up at our affordable yearly rate, and receive UNLIMITED access to all of our current AND future courses. This includes our supervision modules and ethics requirements!
Never question whether you will have access to all of your CEU needs.
The subscription renews yearly, so that you don't have to think twice.
This option saves you both time and money.
3. Agencies Subscription Service.
Our service provides unlimited yearly CEUs for all of your BCBAs and BCABAs.
Courses include supervision requirements, ethics, and research reviews. New courses are published weekly, and we always accept suggestions so that we can tailor information that will help your employees grow.
As a bonus, we also include unlimited access to our RBT training modules, for your therapists, completely free of charge.

All of your employees are covered under this option in one easy step.
---
---
Contact Us Today
---
---